Coming Soon Editions
Just a little peek at the resin editions in the works and/or soon to be released!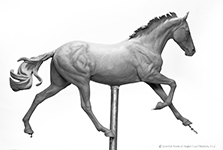 Anise
Galloping Thoroughbred Mare

Anise is almost ready for release! I'm still aiming for a lottery by the end of February, but it may be the first week of March. Click the thumbnail above to view the final stages of the clay sculpture, which will now be molded so that I can cast master resin copies to put the finishing touches and corrections on.