Sales
Below are available sales pieces (if any). I usually have an unpainted resin edition available, though painted pieces are much harder to come by. I'll be adding bisque and glazed ceramics as I get them in stock here too.
Due to real horse medical expenses, I'm offering up some of my stash of personal copies of Levi Denim and Dockers. Little Levi's will follow.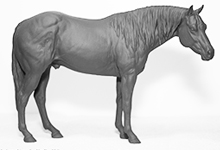 Denim Edition
Only a few left!
~*~*~*~*~

POLYCHROMATIC PANOPLY EVENT
**THE ORDER TIME WINDOW HAS CLOSED**
THANK YOU ALL so very much for your orders and general support during this sale! I've got a lot of casting in front of me!

As promised, I'm leaving up the FINE PRINT page for the sales so you can come and look back at any time. The page will be getting some reorganization, but I'll make sure it stays up in appropriate places! Arcturus and Venti-scaled Uilleam will be available to order in another batch sale once the Polychromatic Panoply event orders are all taken care of.
"ARCTURUS"

in traditional (1:9) scale

Relaxed, walking gelding of warmblood type. Different versions for all occasions!
"UILLEAM"
in Venti (1:20) and
Micro (approx 1:64) scales!

Long sold out in traditional scale, I'm bringing back my popular Clydesdale gelding sculpture in two new fun sizes!