Arcturus
(produced by Aspen Leaf Studios)
Arcturus is a smallish traditional scale (think Breyer Giselle) gelding of Warmblood-type in a relaxed walk. He is relatively versatile and can be the horse mosey-ing through the field deciding which blade of grass to pluck, or the top level sporting horse leaving the arena on a loose rein after the job well done and getting a pat from his rider.
I love working the different "hair style" versions so have kept with that as I did for Anise and Levi. Ari will have three versions: a loose, pulled mane and a banged tail for a more relaxed look, a hunter version with a million mane braids and that tightly braided tail for the very formal look, and something in between for those in the colder climates - a button braided version with the loose tail and a clipping path!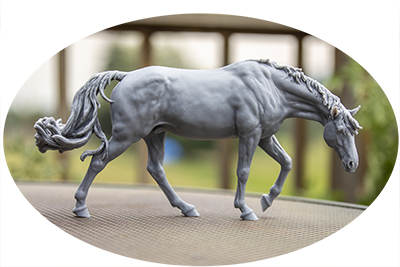 A 3D Print of Ari's loose m/t version. Some photoshop to edit out most of the print support nubs to give you the general idea of what he physically looks like. :D
EDITION SIZE/INFO: I will be working these editions more like Levi's and selling in batches. The first of which is available for open ordering during my event at BreyerFest 2021 - July 15th-18th. While I do want to take care of as many collectors as I can, if this first batch ordering starts to exceed numbers in the hundreds, I will close the version edition completely. Ari will be solid cast by myself with wire reinforcements.
PRICE: $500PPD within the continental US, and $545 for Int'l shipments. A $50 non-refundable deposit per cast will be required up front to reserve your order. As usual, I am not accepting time payments. If you need payments, I accept credit cards and you can work them out with your bank. Due to this guy's suspected popularity, it is very likely there will be a lengthy wait (many many months) before your cast(s) can be shipped. I highly recommend the deposit only vs. the paid in full so that I'm not holding your money all that time. Josie will be sending out invoicing for the balance when the cast(s) are ready to head out! Yes, payment does bump you up the line, but I'm just putting that note out there in case you don't like the idea of someone holding you payment that long prior to receiving stock.




Loose Mane/Tail Version

FULL ALBUM
(COMING SOON)



Hunter Version

FULL ALBUM
(COMING SOON)


Button Braids and Clipping Path Version

Available Q4 2021

Check out the video of the full render of Loose-Maned Arcturus below!